I am positioning myself sideways. This way the armrest is in my back. It is possible to withstand the situation for about half an hour with the jacket, which should have helped against the freezing cold. I notice, that the father wants something from the stewardess and shows to the front.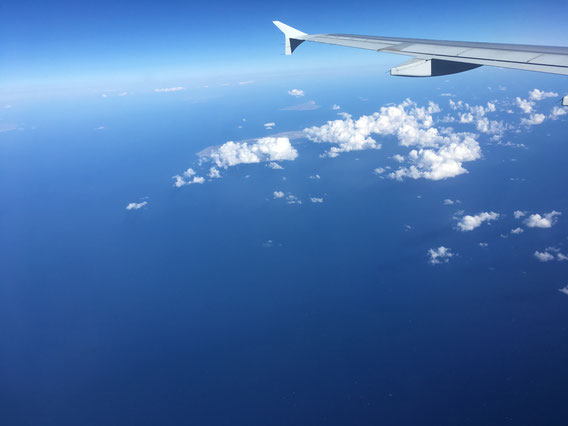 The two rows in front of us are business class, empty and are only allowed to be used for those, having paid for them. That's what I learned from the flight attendant, when I wanted to escape the kicking. Well, I ask him, whether he wanted to exchange seats to sit in front? No is his answer. They had just wanted a pillow. I ask once again, obviously way to friendly, if he wanted to change seats. With a friendly smile he apologizes for the kicking and declines. Well, there could have been peace for the back so easily. But Mr. I-am-such-a-great-and-beautiful-and-smug-dad does not want it. Now I have an idea: I fold my seat to the back as much as I can. Much folding is unfortunately not possible. But the feeling is great, I can do it without bad consciousness, and I would have declined a question about bending it back up with the same friendly smile in my face with pleasure. Unfortunately I can only bend it back for about an inch. Well, I am giving up: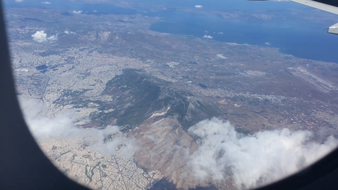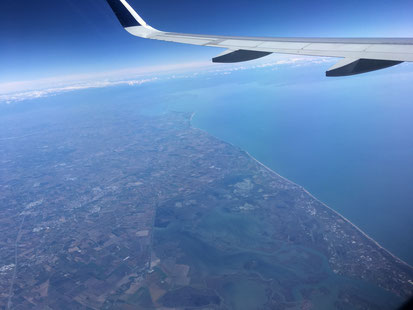 I take the best out of the situation and put my feed on the arm rest in front of me. Also good. This way the empty business-seats do make sense at last. The smiling dad has pulled out the information from me that we weren't allowed to take the seats in front, which doesn't prevent his wife from making herself comfortable there with her gadflies. So far fine, wouldn't the threat now attack from both sides: The back and the front: The Lady is trying to get rid of my feed with her elbows, while her little son keeps hitting my back. In the front her little daughter starts trashing about. Somehow I feel really jammed. Once in a while I distract myself by checking out the fantastic view over the clouds. Then I notice, how the Lady gets back to her seat and snaps at the cabin attendant about the temperature on the aircraft. While I am wrapping myself into soft cashmere to set at defiance about the polar-like air, I hear complaints about too much hot air in here. Interchangeably do the oh-so-beautiful dad and supremumy get into the front-end seat with their hyperactive dwarfs.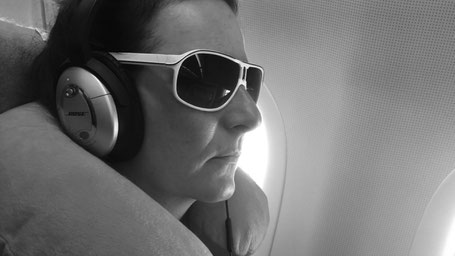 To reach out to all of your senses, the scene is completed with the changing of nappies, which distributes the wonderful smell of baby shit in the front-end part of the cabin. I was so happy about the great seat in front, by the window and close to the entrance at the beginning. I am reflecting about how I would handle the kids? Would I demonstrate them how it feels to be on a seat, which is under constant kicking? Or would I bring games to distract them? I have the feeling, that I would do something. It becomes turbulent a little in the meantime. Thank god, this way the kicks don't stand out so much any more. The turbulence calms down and I have a hard time keeping the kids terror apart from them. Well, why on earth have I told macho dad, that it was ok and that it wasn't his fault? Not to be identified as a hater of children and to avoid being carted off as child abuser at customs?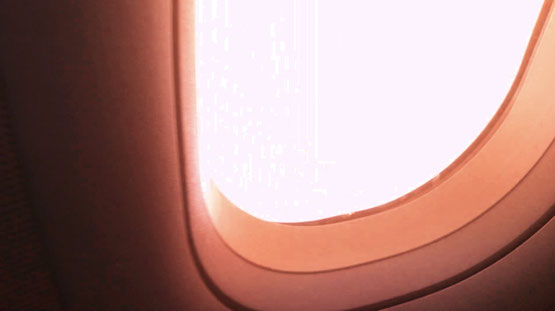 That is probably it, as I have definitely no right, especially as foreigner, to criticize the behavior of the sweetest creatures on earth. I really ask myself, if I had a chance to handle the situation better as a mum. I do believe, that I could explain somehow, or would show, that their gymnastics exercises are distracting others. That argument, that they were too small to understand, as they are hardly able to speak, has no value for me, because I think that children are much smarter, than most people estimate. They understand more, than we often think and it simply is part of their nature to test, try. If they get through with their behavior, the borders will have been set on that level, so than it will be much more difficult for them later, if a new threshold is set for them, a different, more realistic level, then the one they will have internalized.
I am also sure, that being strict doesn't harm, although I would try to avoid the worst with keeping them busy. The parents are just holding them, but don't play with them. They desperately wanted attention. Anyway, in this moment they are little monsters and I ask myself, whether I would be able to bare that as a mum and hope a lot, not to get in such a situation, or never get other travelers into that situation. I feel circulation problems coming up in my body: Hot head, slightly sick, which have to come from the tension and negative energy behind me. I have the horror vision for a short moment of the 4 persons being next doors in our hotel, or even worse, having them on board of the same diving ship.
I escape the aircraft as quickly as possible: I am the first one outside. Oh yea. Oh, what a relieve! My darling has some small talk with the parents of the monsters at luggage claim, a very short conversation, which I simply can't join. I pretend to be busy.
It is beautiful: We are welcome by friendlily smiling local musicians, who play some nice music. Their shirts with a colorful flower pattern immediately conveys an island atmosphere, so that the long queuing at customs straight after doesn't feel so bad.