Hotel: Apostoli palace: https://www.apostolipalace.com/home-5/
Videos:
Carneval: https://www.youtube.com/watch?v=Ja9XjytoAL0
Venice beyond the carneval: https://youtu.be/NRSDDZzk9lE
We had found a great hotel: Apostoli Palace. (Links below and above) It is on the main island, close to St. Mark's Square and close to the vaporetto, the water bus, which gets you here from the airport and to hotspots, like the Murano island and on the Canale Grande, the big canal, on which you can find many interesting sights. The hotel was well affordable, beautifully designed in a traditional way, clean and friendly. The rooms were quiet and the beds comfortable. You get breakfest in one of the little bars near by and dinner in the restaurants, which are distributed in the streets around the accomodation.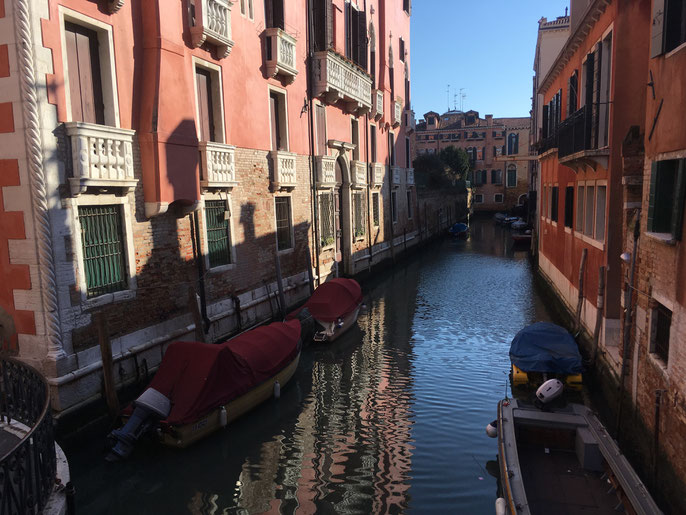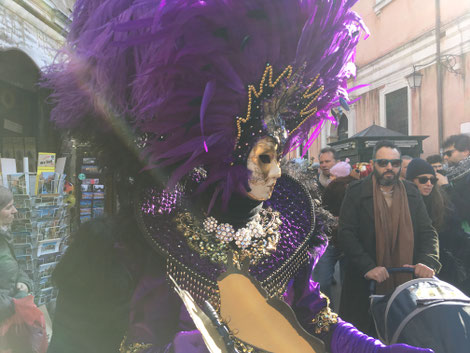 On our first day we decided to walk to St. Mark's Square, as google maps informed about only some minutes walking to get there. On our way we passed nice boutiques, bars, takeaways and restaurants. A chilly wind blew through the narrow alleys. The smell of the canals, which we had to cross on small bridges sometimes, reminded me of wet sand, old seegrass. We could not hear any traffic, as usually in cities. The only thing we heard was the clapping of our steps, people talking and sometimes pidgins and seagulls. The crowds grew, the closer we got to the main connection between the train station and St. Mark's Square. Now we ended up in a wider walking street and came across the first masks.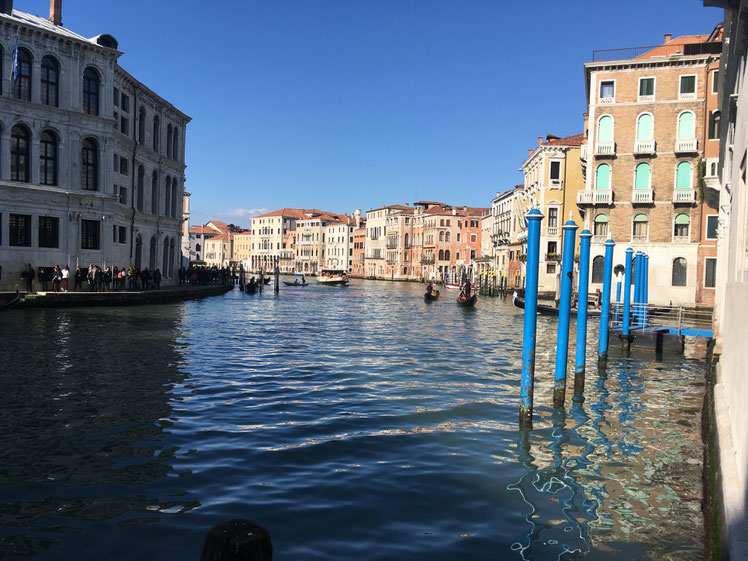 Some were in Baroque style, others very individually designed. We continued with the crowds, which was flowing in one direction: to the big, famous square, where the events take place and most of the disguises could be found. When we were close to the famous Realto bridge, we decided to walk the extra mile to check it out. This bridge has to be crossed, if you come from the train station, as it crosses the big canal, the Canal Grande. It is wide and has a lot of tiny shops on it, in which jewelery and other beautiful art and crafts are sold. It is possible to either cross the bridge on the edge, to see the water, or in the centre, on which you don't even realize that you are on a bridge, because you only see the boutiques to each side.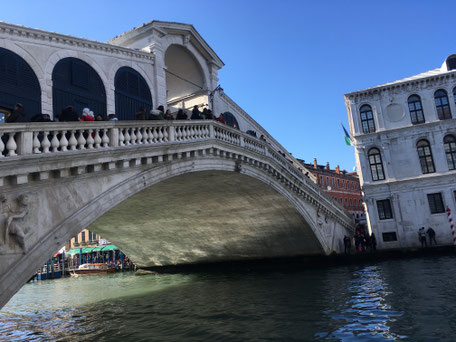 On top of Realto you could turn to one side from the centre and so we did. That already turned out to be so much more difficult than expected, as the bridge was stuffed with people. We watched, waited and finally found a little slot to squeeze in to enjoy the great view from the bridge. We looked around some seconds, before we decided to take out our cameras. Within this short time, tourists started to squeeze us on to the wall, which kept us from falling into the sea. The pressure grew and as the edge of the stone railing was right on the level of my lungs, breathing became more difficult. I wanted to move my arm to take some pictures. That was impossible without a lot of counterpressure against humans. As I realized, that air is pretty essential, I gave some pressure to the back. That made some people complain. I finished my pictures and turned my head in astonishement, when 3 people looked at me angrily and demanded to get away from there, as they wanted to take some pictures too. With the inability to move, I felt under physical and psychological pressure. Even if I wanted to get away from there again, it would be impossible without violently pushing others away. It really was not a spot, we wanted to stay longer, so we did the necessary pushing.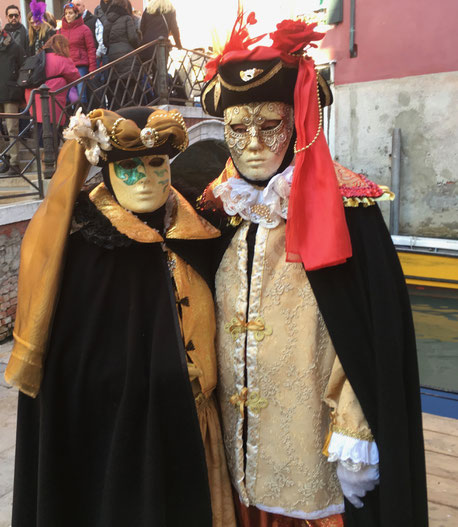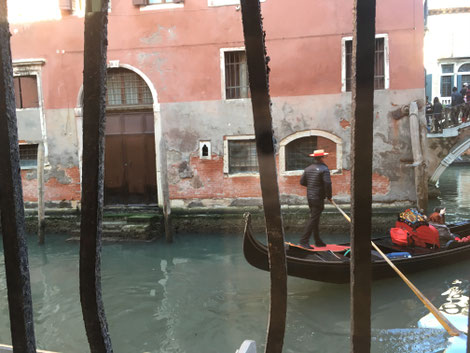 We continued towards our goal. Now I was anxious about claustrophobia at Piazza San Marco. The stream of people, some with beautiful costumes, pulled us slowly ahead. At a certain point, we decided to take a shortcut and took a right turn into an even narrower street. Suddenly there was nobody. Not even one person in the entire street. That was a strange feeling. So strange, that we consulted google maps once again, to see, whether we were getting lost, or not. Well: We weren't. I wonder, why nobody else would use the same strategy. After some minutes we had to turn to the main pathway again, which meant being in the crowd again.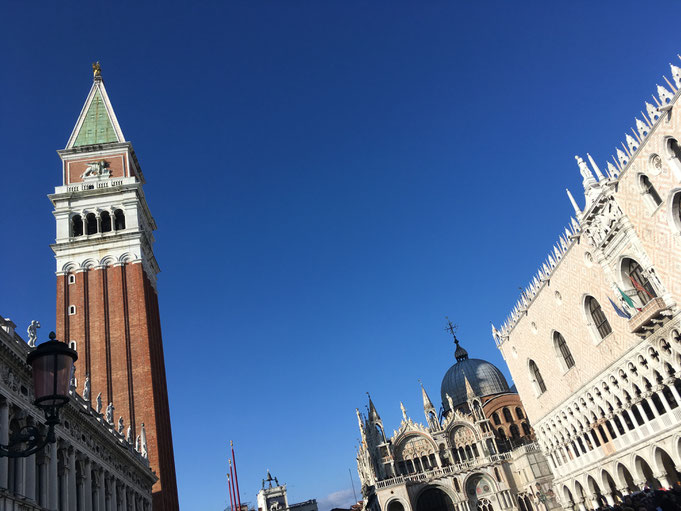 On the big, famous square it was not as bad as expected. Beautiful costumes and masks compensated for the challenges. The squeezing only continued later on our way towards the Bridge of Sighs.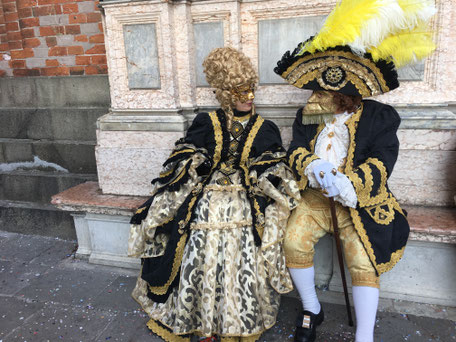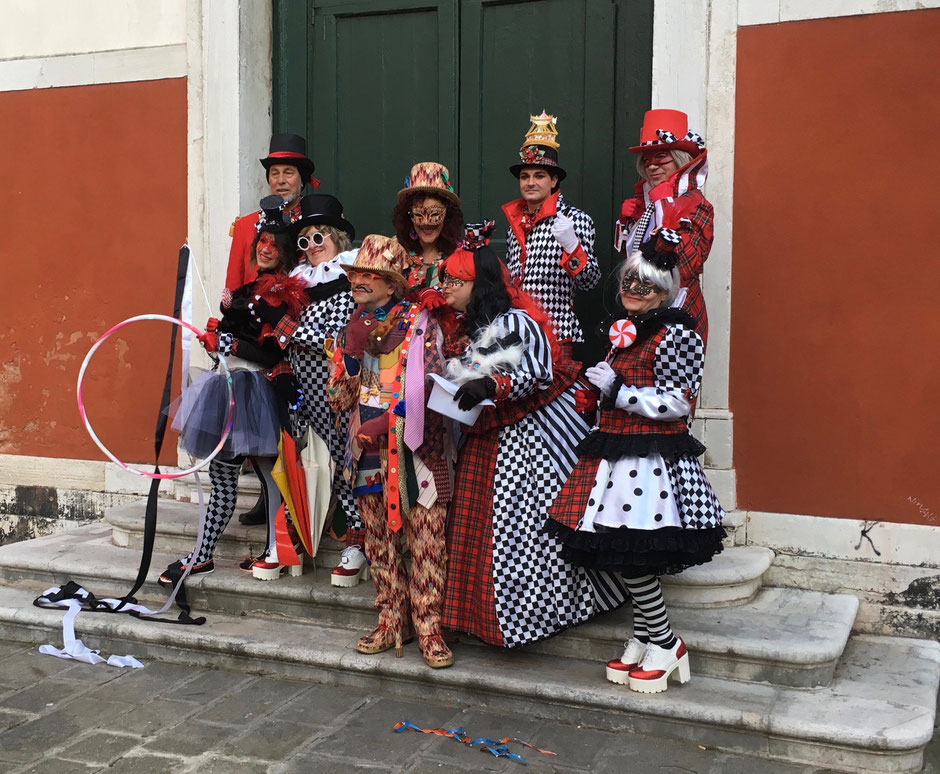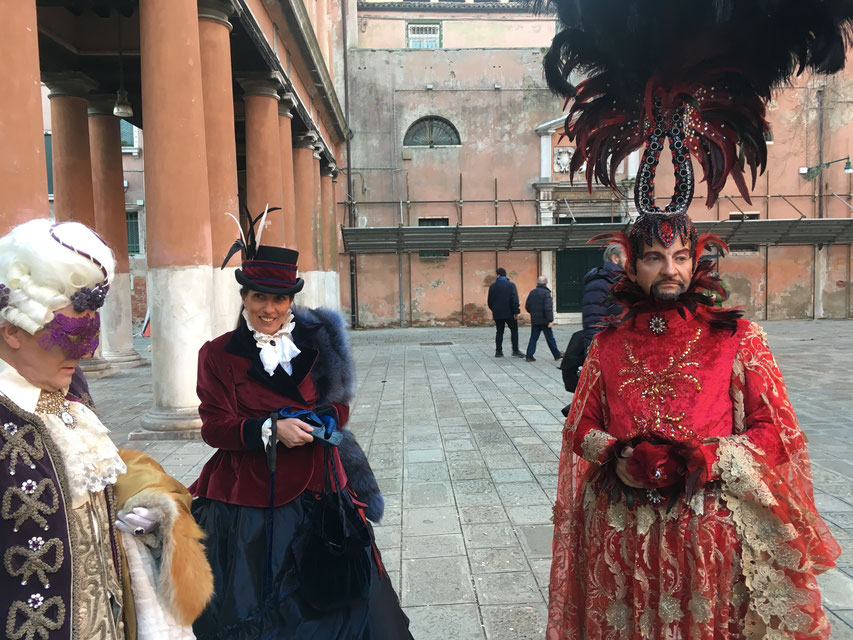 It was interesting to just watch how the beautiful costumes were surrounded and chased by all sorts of tourists from all around the world. Well costumed people were almost uncapable of moving along. One Lady, young and beautiful, was wearing a white dress and accompanied by two gentlemen. One was watching out like a body guard and the other one was taking pictues of her, especially carefully when she took off her white, fury cloak to show her naked shoulders.
Tip: The program says, that the famous angel (more details on the link below) would fly between 11:00 and 12:00. Actually you have to be there precisely at 11:00.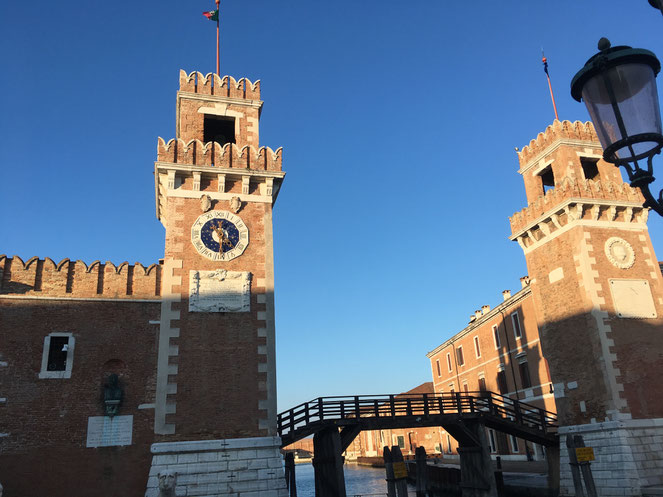 After having filmed enough, we took one path away from where everyone else went and found ourselves in places, which literally looked abandoned. We enjoyed the silence and found our way back to the cosy room, avoiding as many people as we could.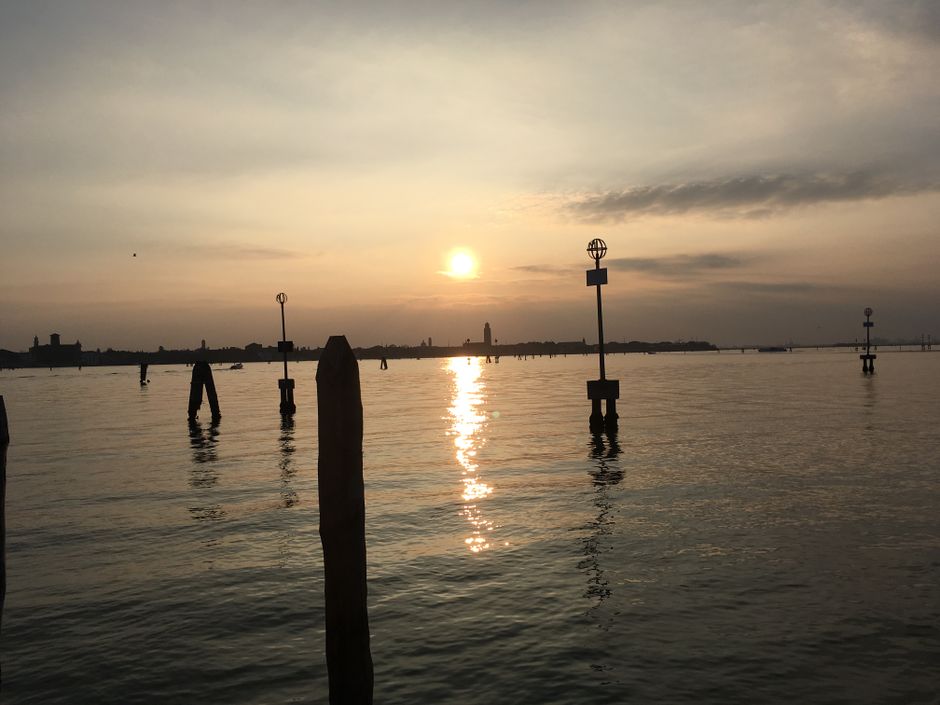 Hotel: Apostoli palace: https://www.apostolipalace.com/home-5/
Videos:
Carneval: https://www.youtube.com/watch?v=Ja9XjytoAL0
Venice beyond the carneval: https://youtu.be/NRSDDZzk9lE
http://www.carnevale.venezia.it/en/